So yesterday we reached the 100 followers milestone...which I guess puts me at Wayne Gretzky status, plus one! For all my followers, I have decided to show you the most appealing pictures of Wayne Gretzky I could find. (as a coach though. I use that to justify the "plus one").
Before that though, here are a few good tunes I've recently bought (yes, people still buy music!).
From the CD "Dungeon Raps". I never heard of D Mattolla before, but damn he makes a good smokers album...and speaking of which...
Smoke DZA's "Rolling Stoned" is seriously the smoking album of the year. I've listened to this album front to back at least 10 times in the last 3 days. GET IT.
And now, I present Wayne Gretzky: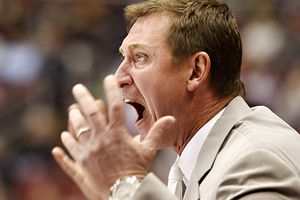 Hey look, theres even two from the same game. Hilarious! Anyways, thanks a lot guys, expect a lot more to come!